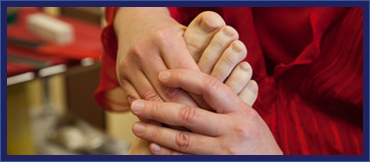 The illuminate team of stylists will create the style that works best with your features and fits into your lifestyle. The menu of services detailed below take a man's sensibilities into consideration, and we guarantee you'll leave the Salon feeling rejuvenated.
Haircut
$20-$35
All men are not created equal. Some prefer a trendy scissor cut while others like the tight look of a clipper cut. Whatever your preference, our stylists have expertise in both techniques.
Nails
A Well-Groomed Natural Nail
$20
This 30-minute manicure is for the man who prefers a clean, buffed look. The treatment includes a hand massage with aromatic oils.
Sports Pedicure
$35
Our sports pedicure is customized to meet the needs of your extremely active feet. The service begins with a relaxing soak in a hydrotherapy foot bath and is followed by a complete foot grooming.
Skin
Men's Essential Facial
$65
After a brief consultation with your esthetician, we will determine the best combination of products for your skin type to achieve a deep cleansing treatment and improvement in your skin's tone.
Rejuvenating Facial with Collagen Mask
$90
This facial is designed to alleviate the affects of stress and the environment on you skin. This intensive treatment infuses moisture into the skin and nourishes the skin with collagen to counteract dryness and dehydration. We highly recommend a minimum of 3 treatments over 3 consecutive weeks to receive optimum results.
Back Cleansing
$75
If you're susceptible to breakouts, this is the ideal treatment for you. The service includes a deep cleanse, toning of the skin, exfoliation and a relaxing back massage.
Packages
Handsome Partner Package
$135
Whether you're preparing for a special event, or want to treat a special someone, this is a wonderfully decadent package. We will prepare your skin with an illuminate signature facial, groom your eyebrows, clean up your hands and nails with a sports manicure and complete the program with a relaxing scalp massage and cut/style.
We recommend scheduling this package at least 1 week prior to the date of the event. Please allow 2 hours to complete this program.
Gentleman's Retreat
$200
illuminate's Gentleman's Retreat is the next best thing to a boys' weekend. Please clear half of your day and prepare for extreme pampering. The program begins a signature facial and eyebrow cleanup. The retreat concludes with a wonderful shampoo, cut and style with one of our talented stylists.
The Royal Head to Toe
$295
Be an illuminate king for the day. This program begins with a purifying facial, which will release the toxins and stress trapped in your skin. A sports pedicure will be a true treat for your feet while your hands are wrapped in a soothing paraffin aromatic hand treatment. Your royal treatment concludes with a shampoo and style with one of our talented stylists.
Please allow 4 hours for this program.