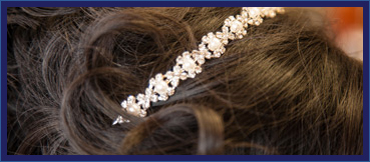 The illuminate team understands that putting together your perfect wedding day is a process of making a dream come true. We would love to be included in your special day to ensure you have a Cinderella experience. We can begin as early as 3 months ahead of your big day so you look as radiant as possible.
Packages can range in price from $100 - $500 depending on the service and size of the bridal party.
Three Months and Counting...
Begin a facial program. We recommend a monthly visit to our esthetician.
Two Months and Counting...
Begin weekly manicures to enhance and promote your natural nails. Or, experiment with acrylic or fiberglass nails to ensure perfect nails.
One Month and Counting...
Reserve days and times for bridal party nail and makeup services. The bride should have a trial run for hair and makeup and included is a complimentary eyebrow arch so that she can properly choose makeup for the wedding.
Bachelorette Experience
You and your bridal party can enjoy a signature facial, spa pedicure and manicure. Bring along a bottle of your favorite champagne to pair with your complimentary cheese and fruit tray.
One Week Before the Wedding...
Reconfirm all times reserved for the wedding day. Finalize all makeup selections. Purchase 2 oz. travel-size skin care products for honeymoon.
Two Days Before the Wedding...
Spend time with bridesmaids while they enjoy their spa services. Reserve your special treatments, too, and include all waxing services. Don't forget the groom! Reserve time for his manicure and pedicure, too.
Your Wedding Day...
Now is the time to refine all of your needs to keep your wedding day special.
To see how we can help you make your special day perfect, please call us at 484-416-3235.