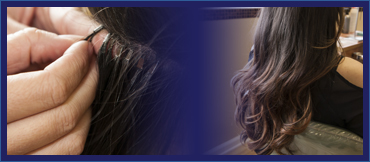 Getting hair extensions is an exciting way to enhance your hair and completely change your look! Extensions can instantly give you new length. They also add volume, hide damaged hair and leave your hair looking shiny and youthful.
Not all hair extensions are equal. The illuminate team uses HairLocs, which is the safest technique to give you the hair that you have always wanted.
Our trained and certified specialist offers a free consultation to determine the best way to achieve your desired results.
When booking your appointment, we will secure it with a credit card. Because extensions can be a labor intensive service, we require that if you need to cancel an appointment, you contact us 48 hours in advance and speak directly with our receptionist. A voice mail message or cancellation within 48 hours will result in a charge to cover the time and materials of the stylist. If you have any questions regarding our policy, please contact our manager directly at 484-416-3235.