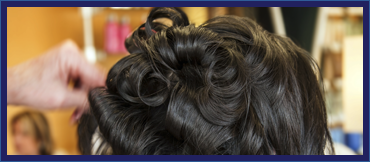 illuminate's design team understands that beauty is a personal thing. It's all about highlighting your features and creating a style that fits into your lifestyle.
Our professional staff is highly trained in the classic skills of hair cutting, coloring and styling. They stay sharp by participating in regular training, industry trade shows and studying developing trends.
Form and Balance Haircutting
$45-$75
illuminate's mission is to excel at traditional cuts and shapes while incorporating new techniques. Our professional stylists are up-to-date on the latest styles and styling products and they will work closely with you to design a styling concept that complements the shape of your face and fits into your lifestyle.
Coppola Keratin
Starting at $125
Want to tame unruly locks or smooth out frizzy hair? The Coppola formulation is a gel-based, formaldehyde-free product infused with keratin amino acids and damage-reversing ceramides. You'll see a noticeable improvement in shine and texture, in addition to keeping your hair smooth and making straightening super easy. If you love your curls and you're looking for gorgeous, bouncy locks without the frizz, Coppola Keratin is for you!
Hair Color
Starting at $60
Looking to add luminous highlights, a temporary hint of color, or hide that stubborn gray? Our team of advanced color technicians will work with you to develop the perfect color. They can also advise on you on complementary makeup colors to harmonize with your look!
Corrective Color Balance
Starting at $100
Our colorists have undergone extensive training and education in corrective work. This can be a tedious and time-consuming process. We will determine the best course of action at the time of consultation and schedule an appointment to make the best color transition.
Damage
$25-$50
A facial for your hair! This spa treatment delivers powerful results to feed and strengthen your hair. It improves your hair's resistance to combing breakage, smoothing and softening while recharging mind and mood with aromatherapy and therapeutic touch. Our conditioners feed and strengthen your hair directly to the core.
Makeup Expertise
Traditional Makeup
Starting at $65
Whether it's a special event, prom or a photo shoot, you want to look your best. Our makeup artists will consult with you on colors and techniques to enhance your personal coloring and wardrobe. They can also advise you on touch-up techniques to keep your look fresh and vibrant all day and night.
Airbrush Makeup
Starting at $75
Airbrush makeup provides the lightest coverage available with a fine mist of your custom-blended foundation. The finish on your face is smooth and natural. Since, with airbrushing, the makeup sits evenly on your skin, this technique is perfect for coverage of acne, dark pigmentation, and even tattoos. illuminate is one of the first salons in the region to develop expertise in airbrush techniques. Our makeup is designed to last up to 24 hours without smearing, running, fading or caking. With today's high-definition video and still-photography cameras, airbrush coverage provides the best natural-looking finish.