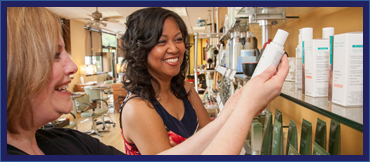 Whether this is your first facial or your fiftieth, the illuminate team likes to begin each appointment with a professional consultation. Your esthetician will discuss your needs, concerns and goals so that together you can design the perfect facial or skin care regimen to meet your desired results. Each style of facial can be enhanced with a more intense peel, masque or dermabrasion for a more aggressive approach to reach your goals.
Here is an overview of the basic elements in our skin care services:
illuminate Signature Facial
$75
illuminate Signature Facial is an experience including cleansing with products selected for you by your esthetician. Followed by a facial massage with a soothing balm, steam treatment, a mask and concluding with recommended moisturizing and sun protection. The goal of this facial is to exfoliate and nourish the skin.
Anti-Aging Facials
$115
Anti-Aging Facials are custom designed for you to meet the specific goals in reducing fine lines, wrinkles, age marks and other pigmentation changes. As skin ages, it loses the ability to produce collagen and elastin, resulting in a loss of facial muscle tone. Your esthetician will design a specific protocol using a gentle facial scrub or enzyme treatment to exfoliate the skin. A deep moisturizing mask will be used to improve the hydration and regenerative properties of your skin.
To achieve the most dramatic improvement, we recommend a series of 6 treatment sessions.
Clarifying Skin Facials
$100
Clarifying Skin Facials proactively address your skin with a therapeutic treatment customized to balance, purify and condition. Your esthetician will apply a gentle cleanser to start and provide a facial massage to loosen oils and debris. Extractions are done as needed, and the service finishes with a soothing mask that helps prevent breakouts. Your result is a clean, fresh, toned face without redness. This is perfect for a teen who would like to improve the clarity of his/her skin as well as someone who is managing hormonal changes that have resulted in adult acne.
Hydro Bright Facials
$115
Hydro Bright Facials are designed to bring blush back to the skin. It is wonderful for frequent travelers and smokers who are often exposed to dry air and the damaging effects of smoke or exhaust. This oxygen-infused treatment will brighten the skin, improve its texture and bring back a youthful, glowing appearance.
Enjoy a more intensive treatment as an individual service or in combination with one of the facials listed above to receive more dramatic results. These treatments include:
Precision Peels and Masks
Peels may be added to your facial as well as used for a series of weekly treatments to intensify your desired results or to be the perfect lunchtime treat!
Glycolic Peel
$65
This highly effective and non-irritating treatment uses glycolic acid to enhance rejuvenation; it can be used independently or prior to microdermabrasion. This Precision Peel exfoliates the irregular dead skin cells, promotes cell renewal, stimulates circulation, and improves the growth of healthy new cells. It will minimize the appearance of fine lines, scars, acne, environmental damage, lightens pigmentation and evens skin tones. The combination of powerful ingredients will provide measurable results for almost any skin type.
Lactic Peel
$45
This highly effective and non-irritating treatment uses lactic acid to exfoliate and rejuvenate even the most sensitive skin. It will minimize the appearance of fine lines, scars, acne, environmental damage, lightens pigmentation and evens skin tones. The combination of powerful ingredients will provide measurable results for almost any skin type.
Masks offered for more intensive results:
Revitalizing Eye Treatment
$25
This collagen boost will firm, deeply moisturize and brighten the eye area.
Collagen Mask
$45
A superhydrating facial mask that offers deep nutrient penetration to firm and moisturize skin. This mask is most effective when complemented by microdermabrasion or peels.
Vitamin C Mask
$45
The Vitamin C Mask is especially appropriate for dry, mature, or sun-damaged skin types to combat dehydration and hyperpigmentation.
Advanced Skin Therapies
Microdermabrasion
Restore the youthful appearance of skin without chemicals, laser, surgery or extended periods of irritation and redness. Your microdermabrasion service includes the full benefit of a facial and soothing mask and ensures minimal down-time afterward. For more dramatic results, we recommend a series of 6 weekly treatments for the face, face and neck, neck and décolleté areas.
Intense Pulse Light (IPL or Youth Light)
This photofacial rejuvenates the skin while treating specific conditions such as acne, hyperpigmentation, rosacea and telangiectasia. The IPL treatment will create a boost of energy to the epidermis and penetrate the skin at the deepest levels, causing your body to produce new collagen and connective tissue, creating healthier, smoother skin.
Our skin care professionals can also recommend medical-grade treatments for our clients seeking more dramatic or intensive results.
Please call us for a consultation at 484-416-3235.